Back posted from bluejersey.net, Sat. Nov. 4th, 2006.
This is about the little campaign that could. A few months ago if you dropped into the Morristown HQ you might see 3 voluteers and Tom Wyka's wife Betty and their 2 kids stuffing envelopes. The Volunteer Canvass on the weekends looked like 30 people. There was a box of lawn signs up front, and a few stray pieces of lit in boxes.
And the Republican HQ down the block was empty.

Well Chip Robinsons canvass efforts have flowered, some days he sends out 60 people. All of the targeted districts are done and they are being canvassed a second time. The phone bank is overflowing every night. Senator Menendez has made multiple campaign appearances with Tom Wyka.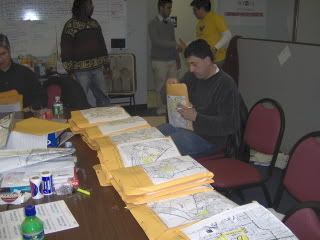 Chip hard at work.

Did Congressman Frelinghuysen get scared? Some have privately told me they think the Congressman commisioned a poll, and it showed a tight race. Well something happened because the Congressman has opened up a new office on RT 10. A much larger office, the size office you need if you are to actually make a serious defense of your incumbancy. What changed?

On Oct. 27th Tom Wyka debated Rodney Frelinghuysen. And Tom wiped the floor with Rodney, Tom belonged on the stage with the Congressman. Tom Owned Rodney. Tom got the standing ovation, Rodney didn't, even with his own people their to cheer him on. Tom Wyka gave the people of New Jerseys 11th district something to vote for. Hope, their future, our country's future.

I spent friday afternoon @ the Morris HQ, the office was packed with about 50 people, including a friend of mine I worked with in the Kerry Florida campaign, an LA from DC. It was a pleasant surprise to see so many folks from DC. At 4:50 I got a call from a Menendez staffer, Randy Grey, he was at the Summit train station and had no lit, Linda Stender was due as well Governor Corzine & Senator Menendez. I left immediately and pulled in front of the train station at 5:06. I got out, told the cops what I was doing, waded thru the Ferguson supporters ...asking them if they saw the Senator yet..... LOL. Found Randy, gave him the lit. Mission accomplished. On the way out I saw Linda StenderTime to get back to the Morris HQ.

About 9pm myself and another Volunteer from DC left the HQ with lawn signs, we drove by the Frelinghuysen HQ on Friday night at about 10pm, it was closed. When I finished the Lawn Sign Brigade, I returned to Morris HQ and assembled Canvass packs for Saturday. There were still 2 dozen people working, many from DC, many from the 11th CD. Stickers for the Local candidates were stuck on 25 thousand door knockers. ANd canvass packs for 75 people were assembled.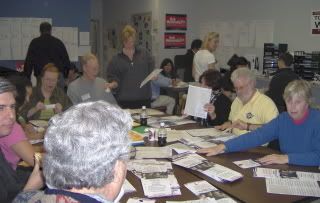 Congressman Frelinghuysen has never really had to defend his seat. SOooo how does one do that? Well it requires a corp group of people with local knowledge. It requires hundreds of people canvassing the hell out of your targeted districts, Phone calls. Direct mail, all that stuff. But what do you do when you have never done these things? You have to pay out thru the nose for staffers, experts etc, because Rodneys operation has never been really challenged, its been withering on the vine since he inherited his Congressional seat, just like his trust fund.

Can Rodneys GOTV effort gear up and perform as well as Chip Robinsons monster canvass machine that has been in operation for years, in Morris county? I think the Wyka GOTV effort wil flat out kick Rodneys ass. You can't wave a magic wand and have GOTV, it takes experience, local knowledge, and time to get everyone on board and to tune the machine. Wykas people have been hitting the streets since April.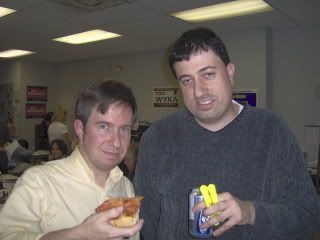 Chip & Cliff

And then the Menendez campaign decides its going to send out what may be the largest wave of election day canvassers ever seen in NJ: 17,000 paid canvassers in one day. Election Day. And the Wyka campaign is getting hundreds. Thank you Senator Menendez.

SO if you live in NJ11, expect to get a knock on the door, if you have not voted yet, you will be told to get your rear out and vote. This is how you win elections. I love it when a plan comes together.

If you haven't already, please consider putting 10 bucks on your credit card at my ACT BLUE site for Tom Wyka. Or come down to Washington St in Morristown, next to the green and Act Blue in Person.