The International Longshore and Warehouse Union didn't endorse the Occupy shutdown of the port on November 2nd, and it didn't endorse the shutdown on Monday, December 12th. Why? Basically because if they did endorse the action, it would be like a strike and they wouldn't get paid. That action would open up the Union to the possibility of fines, a Federal judge fined the Union $315,000 for disruptions earlier this year.
What happens is an arbitrator is called to the scene, if the arbitrator declares the terminal unsafe for the Longshoreman to work, they go home for the day, with pay. My stepfather worked as a longshoreman for over 30 years and operated under similar rules.
If a federal judge determines that occupiers are acting on the union's behalf,
President Scott Mason of Local 23 in Tacoma, Washington, said:
"we can be charged $5,000 for every incident."
From Port and Technology:
"To be clear, the ILWU, the Coast Longshore Division and Local 21 are not coordinating independently or in conjunction with any self-proclaimed organization or group to shut down any port or terminal, particularly as it related to our dispute with EGT in Longview (Wash)," read a statement by the ILWU Coast Committee in November.
Kari Koch of Occupy Portland said that the Local could be held legally liable if they coordinated the protest with the Union.
We would not be doing this action if we didn't have any support from the rank and file.
The Portland Occupier put it like this:
While the mainstream media tried to pin Occupy protesters against the Unions, all along, protesters knew that rank-and-file unions members stood in solidarity.

Anyone with a basic understanding of how Unions currently operate knows that to maintain their contracts, statements like these are issued in order to avoid conflict. Years of US policies crafted behind doors by ALEC and others have drained much vitality from Unions across the country.
Jared Lorio and organizer from Portland adds the punctuation:
The lack of support from the ILWU] sheds light on the fact that our unions have been hamstrung and made ineffective by laws designed to curtail workers organising for their rights to better pay and conditions in this country.
And that brings us full circle back to the ILWU fight with Grain Terminal Operator EGT in Longview, Washington. EGT has refused to hire Union Labor for its terminal operations and is in a long term fight with the Longshoreman's Union over hiring for all of the grain elevators in the Pacific Northwest
.
The 2 Portland terminals on North Marine Ave were shutdown.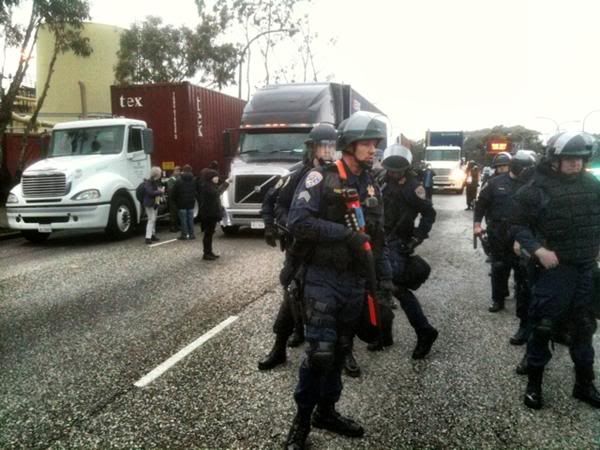 Occupy LA.
Protestors with Longshore Union signs.
14th St Oakland. ILWU signs.
Entrance to Seattle terminal blockaded.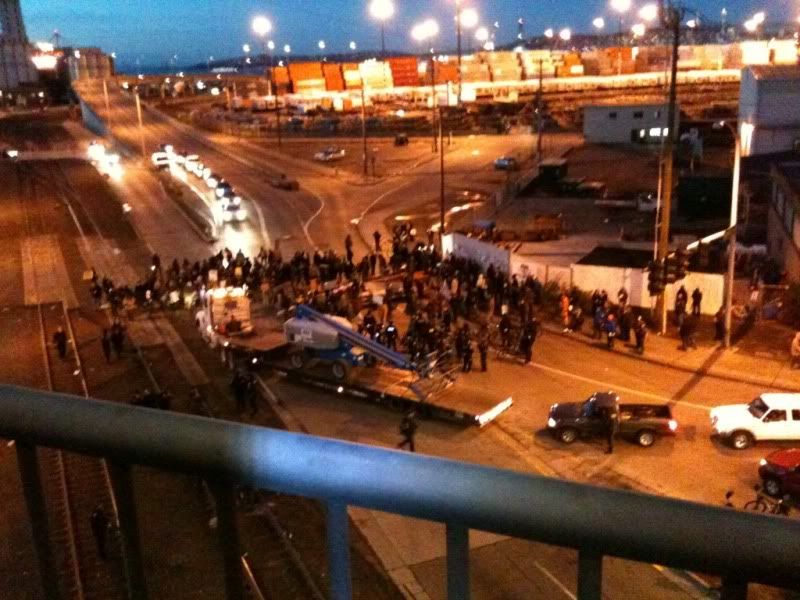 Terminal 18 in Seattle.
Trucker blasting air horn in support near berth 55 @ OccupyOakland.
Scott Olsen, center, Marching in Oakland.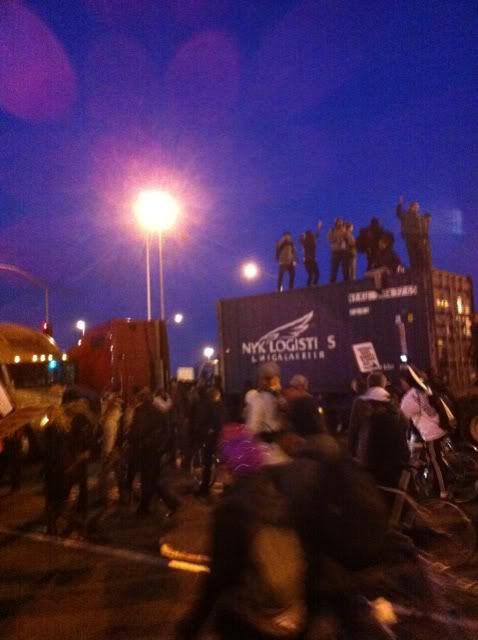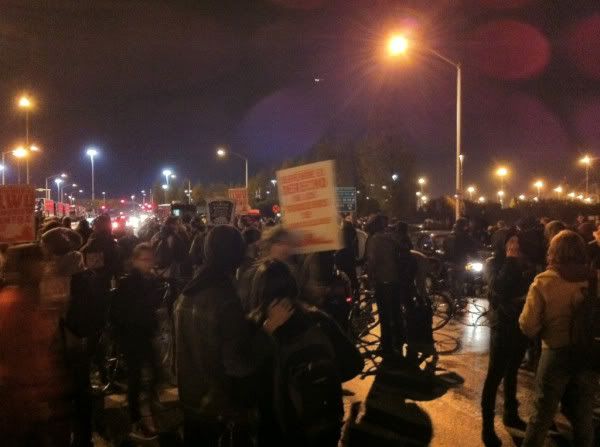 Oakland.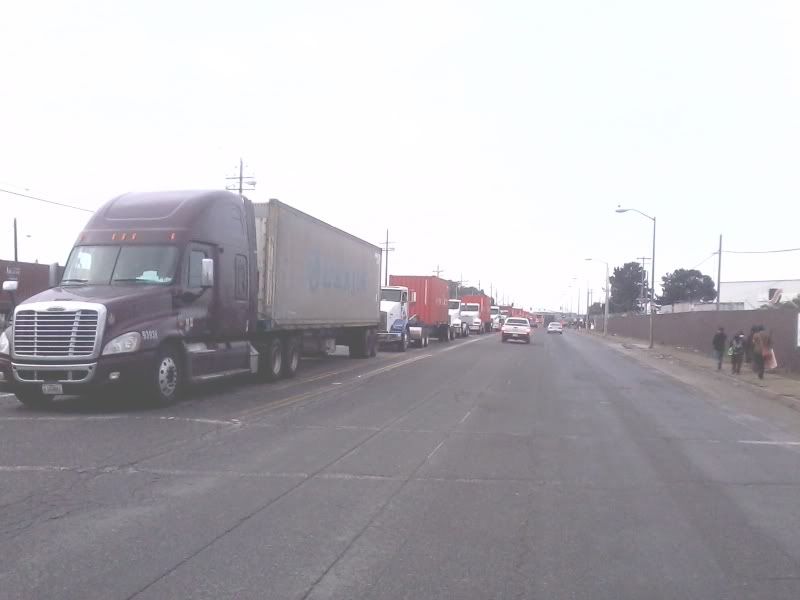 Trucks outside Oakland terminal.
From twitter,
@laststarwriter
, who took this picture and told me Code Pink was collecting money for non Union truck drivers in Oakland who would loose a days pay.
Tweet